Are you looking for a way to update your look without the commitment of changing your entire hair color? Blonde highlights with dark roots are a stunning and chic style that can do wonders for refreshing any hairstyle! Not only is this shade incredibly trendy right now, but it's also incredibly versatile. From natural blends of blonde hues to silver-white colors, there's something for everyone; you might even find yourself loving one or two new subtle shades! This blog post will break down all the best looks, tips, and tricks when styling your newly highlighted locks. So whether you're trying out a permanent dye job or simply testing the latest trend, get ready – have a peek here the guide to striking blonde highlights with dark roots.
Could dark roots and blonde highlights be the new trend?
While blonde highlights have been around for years, the newest trend of having dark roots and blonde highlights is making a huge statement. This look can be achieved in various ways, from dark brown or black roots transitioning into lighter shades of blonde to an ombré style with only slightly darker roots. The result is an effortless yet stylish look sure to turn heads.
When it comes to hairstyles, there are so many options available these days that it can be hard to decide which one best suits you. But if you're looking for something unique and edgy, then dark roots and blonde highlights might be perfect. Not only does this look to add dimension to your hair, but it also gives off a cool and trendy vibe that's perfect for any occasion. So whether going out for the night or just stepping out for brunch, this look will make you feel confident and stylish.
Dark roots and blonde highlights are also incredibly low maintenance, which is an added plus. All you need to do is touch up your roots every few weeks to keep them looking fresh and vibrant. And because there isn't much upkeep required with this look, it's great if you're short on time or don't want to spend too much money on regular salon visits.
So if you're ready to try something new and daring, then dark roots and blonde highlights might be the perfect look. With so many different shades and styles available, something is sure to fit your unique style and personality. So what are you waiting for? Go ahead and try this trend—you won't regret it!
How to style your hair with blonde highlights and dark roots
Blonde highlights and dark roots are a stunning look that can completely transform your hair. To get this style, you'll need to bleach the sections of your hair where the highlights are placed and then dye or tint the remaining parts at the root darker. This contrast between light and dark creates a bold statement and allows for playful styling options.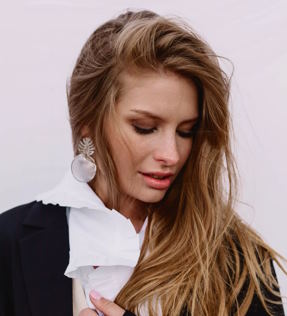 You will want to begin lightening your desired sections using a professional bleaching kit. Make sure to carefully follow all instructions, as the improper technique may damage your hair. In addition, you'll want to keep track of how light each section has become so that they all end up being similar in the shade when finished. Finally, it's important to note that bleaching your hair can be lengthy, and you may want to consult a professional hairdresser if you're inexperienced.
Once the desired sections of your hair have been lightened, it's time to apply the darker hue at the root. You should use a semi-permanent dye or tint for this step, as this will allow for more flexibility in future touch-ups. As with bleaching, follow all instructions carefully and remember that darker colors tend to fade faster than lighter ones.
Now that the highlights and dark roots are in place, you can start styling! Since blonde highlights create a great contrast against darker roots, they look best when styled in loose waves or beachy curls. For even more definition, you can use a highlighting mousse and apply it to the lighter sections of your hair before styling.
Blonde highlights and dark roots look beautiful to make heads turn! You can create this style with patience and practice or go to a professional salon for help. Either way, you're sure to love the result.